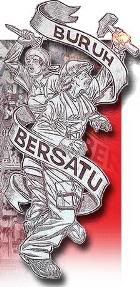 By : B. Suresh Ramand S. Arulldas (NST)
PETALING JAYA: The Malaysian Trades Union Congress (MTUC) wants the
workers' demands to be seriously looked into and solutions implemented.
For starters, the congress which turns 60 this year wants to meet Prime Minister Datuk Seri Najib Razak who assumed the country's leadership recently.
"The MTUC is prepared to have a dialogue with the new leadership on workers' issues," said congress president Syed Shahir Syed Mohamud after attending the MTUC national-level Workers Day celebrations at the Subang Jaya Municipal Council Sports Complex here yesterday.
He added that the current government leadership should be "caring" to the workers' needs in the country.
Both Syed Shahir and MTUC secretary-general G. Rajasekaran were of the view that there were several crucial issues which need to be addressed to improve the welfare and the well-being of the 11.2 million workers nationwide.
In an oath taken by about 1,500 MTUC members, they asked for among others:
- Removal of threats and oppression of workers;
- Implement workers' rights in line with the provision in the Federal Constitution;
- Recognise and adopt the 1998 International Labour Organisation resolution by reinstating the right of negotiation with the civil service;
- Create a law guaranteeing a minimum wage of RM900;
- Respect workers' rights by ceasing all kinds of discrimination;
- Expand the social protection net to workers who lose their jobs;
- Review outdated labour laws; and,
- Respect occupational safety and health of workers by enhancing awareness of the relevant laws.
Meanwhile, both Syed Shahir and Rajasekaran also want the immediate setting up of a retrenchment fund.
"This is more important now due to the uncertain economic situation," said Rajasekaran.
Syed Shahir called for the government to set aside RM500 million to set up the fund.
"We have been asking for the fund to be set up for the last 10 years. It is only for those who have lost their jobs and for no other purpose," he said, adding that the fund should be set up immediately.
Syed Shahir said that if workers were truly the backbone of the country's progress and development, then their rights need to be acted and implemented upon.
In Penang , the state MTUC asked the government to help workers currently displaced and retrenched by their respective employers to find alternative jobs.
More than 100 workers, especially displaced and retrenched workers, took part in a one-kilometre walk from the Penang Bird Park to the Sunway township.
The participants also distributed more than 3,000 leaflets containing the MTUC's recent demands to the government.
TGSU
KESATUAN KAKITANGAN AM KOLEJ TUNKU ABDUL RAHMAN (tarc)